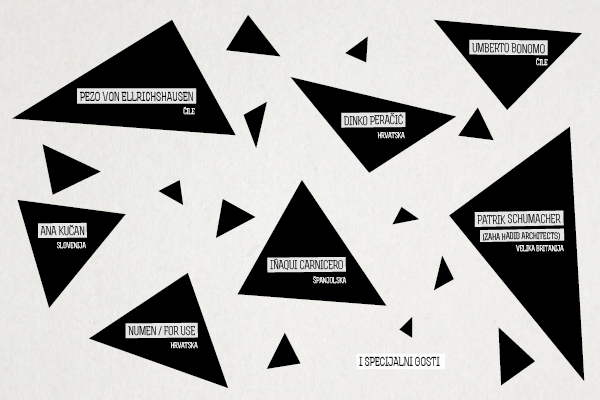 07/13/2016
We invite you to join us at the 16th Days of Oris in Zagreb, which will be held 15 to 16 October 2016 in the Lisinski Concert Hall.
Days of Oris are international architectural symposium organized by Oris House of Architecture, created after the initial success of Oris magazine that continuously published for the eighteenth year as a bimonthly, and in September this year celebrates its 100th edition.
SPEAKERS:
Ana Kucan (Slovenia)
Landscape architect and winner of Piranesi, central prizes …
With neat (Croatia)
Croatian representative at the Venice Biennale, winner of the Zagreb Salon, Piranesi awards …
Numen / For Use (Croatia / Austria)
design collective endless series of top results
Umberto Bonomo (Chile)
The young creator and promoter, the participant is the most propulsive world architectural scene, one of Chile
Pezo von Ellrichshausen (Chile)
Winners of the Mies van der Rohe prize for America
Patrik Schumacher – Zaha Hadid Architects (UK)
Zaha Hadid Architects – partner and director of
Iñaqui Carnicero (Spain)
Winner of the Golden Lion this year's Venice Biennale
William JR Curtis (United Kingdom)
One of the most important architectural critics today. The undisputed connoisseur LeCorbusierovog work!
Bernard Khoury (Lebanon)
One of the founders of the Arab cultural center. He was a representative of the Kingdom of Bahrain at the Venice Biennale in 2014, and his work has been exhibited in many academic institutions in Europe and the United States.
Ticket price: 450 HRK
price student tickets: 250 HRK
Days of Oris 16 are included in the program of professional training of the Croatian Chamber of Architects with 18 hours.
INFORMATION AND TICKET SALES
Contact person /// May Demšar Brankovic
Oris doo
King Držislava 3, HR-10000 Croatia, Zagreb
tel: + 385 1 37 78 177
fax: + 385 1 37 56 243
e-mail: maja@oris.hr
website:  www. oris.hr
Days of Oris 15
https://vimeo.com/149152245
http://oris.hr/hr/dani-orisa/prethodni-dani/dani-orisa-15